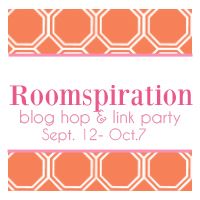 I know I've showed the dining room before, but today I'm linking up to the
Roomspiration

Dining Rooms Party today
. I'm not totally finished in this room, but I'm working on it. Here is the before picture. Pretty boring, right?
We decided to paint our dining room Tobacco Road by
Kwal
. It's kind of a
goldish
tan. We added box moulding to the bottom and also chair rail and crown.
I would love to get a new dark wood or black table. This is an inherited one and there is a family debate about what to do with this one. Since this picture was taken I have painted some black shelves that are now on the wall on the left side of the picture. i can't find my camera though to take a new picture of them. I also need to work on a centerpiece for the table.
This week I've been working on painting our kitchen cabinets. I'm almost finished. Hopefully I'll start glazing today and this weekend we can put the doors back on and add the moulding. Then of course I need to make curtains and paint the walls- probably not in that order! Hopefully next week I'll something ready to show!